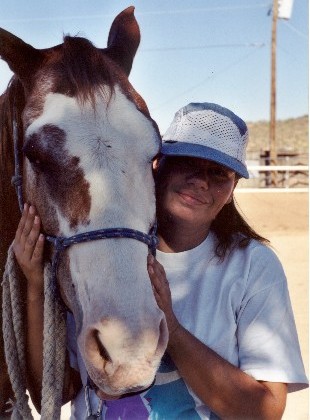 I have been an Equine Physical Therapy & Bodyworks Specialist since 1999. I am a graduate of the Arizona Institute of Equine Massage Therapy and Kinesiology. I am also certified in Equine Acupressure from the Southwest Institute of Healing Arts. I specialize in Equine Massage, Acupressure, Shiatsu, Myotherapy, Structural Balancing, Neuromuscular, and Relaxation Therapies. I have also specialized in Herbology and Nutritional Therapy for animals for over 35 years and have been rehabilitating wildlife for over 40 years.
I personally began using Nutritional and Herbal Therapy as my main therapy 40 years ago. I wanted to pursue a career in Naturopathic Medicine and began preliminary studies while still in High School. Unfortunately, life sometimes has other ideas, and I was no longer able to pursue that dream. But my studies never ceased, and I continued to learn everything I could about Alternative and Natural Therapies and still do so to this day. Since I was always working with animals, my focus automatically turned towards helping them. Over the years I have integrated what I have learned into helping them live healthier and happier lives.
Like most young girls I grew up loving horses and started to ride when I was twelve. I never took a lesson, I just got on and rode. It was all very natural to me and my passion for horses grew steadily. I eventually started working for a trainer as well as working with an Equine Therapeutic Riding Program. Soon after, I was introduced to the techniques of TEAM and Natural Horsemanship and a whole new world opened up for me. I learned new ways to communicate with the problematic horses I was working with, including my own horse Tim. These natural training methods helped Tim immensely and kept me safer while I worked with him. I also began taking Dressage lessons to become more in tune with the horses I was riding, including Tim who was definitely a handful under saddle (see Tim's Story). Eventually, all of these things helped me to better understand and effectively work with these problem horses and go on to have an amazing relationship with Tim.
As for my introduction to the world of Physical Therapy, that came as a result of an auto accident in which I was seriously injured and lost the use of my left arm. It took 14 months of physical therapy to get the full use of my arm back. It was in those painful months that I had the opportunity to learn all about the therapies I was receiving and more importantly which ones really worked!
A few years later when Tim was injured in a fall, Physical Therapy was the obvious choice to help him too. I had him receive the same therapies which had worked wonders for me and the results were amazing. You see, for over a year prior to his fall, Tim had been plagued with neck, shoulder, and back problems which caused him pain and intermittent lameness but a medical problem could not be determined. His discomfort would often lead to emotional outbursts, especially under saddle. But once these problems were addressed in his therapy sessions, he started to transform.
I decided to learn all that I could to help him heal both physically and emotionally. I combined Bodywork, my knowledge in Nutritional Therapy, Natural Horsemanship Methods, and Ultra Calm Equine to address Tim's physical and emotional needs until he had completely overcome his problems. After struggling with him for over a year, I finally had the horse I had always dreamed of. I eventually became an Equine Physical Therapy and Bodyworks Specialist so that I could help others overcome their problems as Tim had done. Tim remained sound (both in his mind and body) for the rest of his life. Tim has been gone for awhile now, and even though I'm still saddened by his loss, I will be forever grateful for all that I learned because of him.
For more information on what I can do for your horse, please email me at;
service@wholistichorseanddog.com